Last weeks meals went fine... a little out of whack because we went to my parents house to do taxes a few nights... but we still got through most stuff on the list. Here is my plan for this week.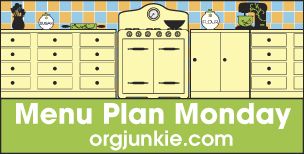 Monday: Dinner out
Tuesday: Beauty & the Beast
Wednesday: Dinner at my parent (hopefully finish those taxes!)
Thursday: Maple / Dijon Chicken (a.k.a.
Man Pleasing Chicken
)
Friday:
Spinach Artichoke Pasta
Saturday: Spaghetti Factory
Sunday: Soup and Grilled Cheese Sandwiches (still haven't had this in a few weeks - even though its been on the menu EVERY week. Its just the easiest to hold over.
I get off the hook pretty easy this week. Which is nice, because I was a little uninspired when planning this. More plans over at
Orgjunkie
, of course.