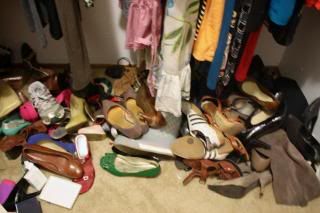 I don't post too much about
shoes
- considering the name of this blog - but they are a pretty constant obsession of mine. Right now they lay sprawled out on the floor of our closet (see picture for evidence.) Its awful. I have to get a handle on it.
I always have a problem of getting rid of shoes -- I just want to keep them forever -- even when they've worn themselves out. They literally have to break before I can toss them. Also - I have an issue of buying really cute shoes - that I end up never wearing - just because they are on sale. Ah, but what girl doesn't have that problem.
Anyways - for some reason this week I've been fixated on solving some of these problems. I've mentioned a few storage solutions before like this
shoe ottoman
and using an
old ladder
. In my current house - with our walk-in closet the ladder isn't really an option - and the ottoman doesn't hold nearly enough. So I'm still working on that issue... I need some shelving like this picture maybe.
The other issue is getting rid of ones that really just need to be tossed. I'm working on that. I'm starting with my least favorite type of shoes... sneakers or tennis shoes... or whatever people call them. I'm throwing out two pairs of Adidas that I've had for ever - and really need replacing. No matter how little I wear them. The question is ... what to replace them with?
Here are some that I'm thinking about. Mind you, these are really just for walking - or gardening. I don't run or jog enough to buy new "running shoes."
1.)
White Captains Blue Backdrop - Burnetie
2.)
Faas Femme Ballet Slip-ons - Puma
3.)
Cortez Leather '06 - Nike
4.)
Original Samba - Adidas
5.)
Keds x kate spade new york Pointer
Well, I really like the Keds x kate spade ones - but they are also the most expensive. I'm thinking the Pumas or the Adidas is where I'll land.
Any other suggestions?