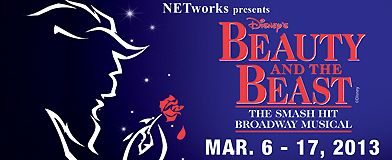 I'm gonna start of this weeks "Around Town" with something for the family. The
California Musical Theatre
is showing
Beauty and the Beast
now through March 17 as part of its Broadway Series. We have season tickets, which I've mentioned before, and I love getting to see these shows. I've always liked the Beauty and the Beast story - so I'll be interested to see the this performance. Hopefully I can make it up all those stairs without getting too tired (this baby is getting bigger and bigger - just like she's supposed to!)
If you're a fan of Crab Feeds, check out
Sacramento Magazine's list of Crab Feeds
in the area and find a good cause to help out. There are a few this week - so check it out!
Want to celebrate St. Patty's Day with some wine? Check out the
celebration at Lava Cap
for some wine and cheese pairing - both Saturday (March 16) and Sunday (March 17.)
Enjoy your week!