Back on schedule last week (pretty much.) My husband requested baked mac n cheese instead of the Confetti - so we went with that. Its always better with a little crusty top I guess. :)
Here is this week: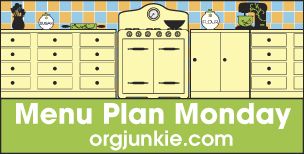 Monday:
Taquito Salad
Tuesday: 17 Bean & Barley Soup
Wednesday:
Stuffed Baked Potato
Thursday:
Black Bean Spinach Enchiladas
Friday: Maple Mustard Chicken
Saturday: Dinner with family
Sunday:
Cheesy Chard Pie
Ok! Hope everyone has a good week. More recipes at
orgjunkie
!