I haven't been posting my menu plan the last few weeks - but I've still managed to put together a plan and not feel like I'm scrambling every night. This weekend I got it together enough to post it too. So here we go: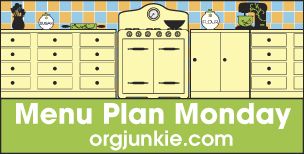 Monday:
Parmesan & Spinach Orzo
Tuesday: Buffalo Chicken Salad
Wednesday: Eat out - We're going to see
Louise Leakey speak
Thursday: Asian Black Bean Tostadas
Friday: Soup & Grilled Cheese Sandwiches
Saturday: Family in town
Sunday:
Lemon Braised Chicken & Beans with Mint Pesto
Let's see how that works out. I have high hopes for the Lemon Braised Chicken...
More recipes and plans at
OrgJunkie
, of course!