Last week was a little off. I forgot that we had a show Tuesday night... so that took one night away... and then I had an issue getting the right ingredients for a few things... anyways, it worked out. We at least ate dinner every night and at home. Lets see how this week does.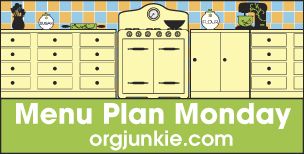 Monday: Hospital Maternity Ward Tour (eat out)
Tuesday:
Spinach Artichoke Pasta
Wednesday: Buffalo Chicken Salad
Thursday: Grilled Cheese and Soup
Friday:
Confetti Mac n Cheese
Saturday: Dinner with our parents
Sunday: Super Bowl!
Seems easy... We'll see. More plans at
Org Junkie
!