Whew! I actually stuck to the plan last week - almost exactly. All the food was great - it was nice to make the
Cheesy Chard Pie
again, I think my husband and I had both forgotten how yummy it was! So lets see if I can do as well this week. Here's the plan: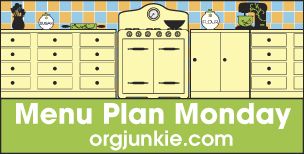 Monday:
Mexican Chicken Casserole
Tuesday: Black Bean Asian Tostadas
Wednesday:
Confetti Mac + Cheese
Thursday: Wine & Herb Fish Packets
Friday: Buffalo Chicken Salad
Saturday: At in-laws house
Sunday: At in-laws house
If I can convince the hubby to do the Dine Downtown one night - then I'll skip out on one of these nights. Otherwise... there's my plan!
Happy Monday! Hope everyone has a great week. More menu's are available at
orgjunkie.com
.