Ok - last week worked pretty well too... We went to The Firehouse on Monday night for the Dine Downtown, and it was AMAZING. We really appreciated going to a nice restaurant, getting great service and great food - especially since nights like that won't be in our future for a while once Baby L gets here. Or maybe she'll be like her daddy and grow up eating at fancy restaurants.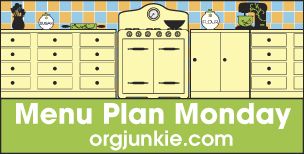 Anyways, here is my plan for this week:
Monday: Unsure (We may be on the road - or still at my in-laws)
Tuesday: 17 Bean & Barley Soup (A dry mix from Trader Joe's that looks delish!)
Wednesday:
Loaded Roasted Potato Casserole
Thursday:
Crock Pot Honey Sesame Chicken
Friday:
Linguine w/ Shrimp Scampi
Saturday: We'll be at the
2012 PRBO Rich Stallcup Bird-A-Thon Awards Event in honor of a good friend of my dad who passed away recently. Its also my dad's birthday.
Sunday: We'll be heading back from the bay area - so again, something quick - maybe Pizza.
More over at
Org Junkie
!