Well its a new year... no more excuses. I'm over the morning sickness and everyone says I should be in a nesting phase - where I want to clean everything and decorate the nursery... but it still hasn't kicked in yet. I'm going to try and give it a jump start by returning to the meal planning.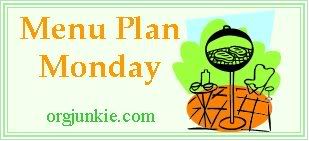 Here it is for this week.
Monday -
Man-Pleasing Chicken
(After we have this I will be renaming it - because hopefully I enjoy it too. I'm thinking Maple Mustard Chicken....)
Tuesday -
Cheesy Chard Pie
Wednesday -
Taquito Salad
Thursday -
Bacon & Peas with Orzo
Friday - Grilled Cheese Sandwiches & Soup (my favorite winter meal)
Saturday - Dinner with family
Sunday - Pizza night
Ok. Lets see if I can get back into this. More menu's over at
orgjunkie.com
.