First, I really want to say that I miss looking for cute clothes. Not that I bought a ton of stuff all the time... but I don't even browse the clothes on
Gilt
or
MyHabit
right now. Mostly because I'm not even sure how things are going to fit me after this little girl comes or how long it will take me to get back into shape.
So my shopping fixation has taken a side trip. I now just look for cute baby things. When I found
Chewbeads
- I kinda felt like it fit both categories. Chewbeads are teething jewelry for moms to wear and safe for babies to chew.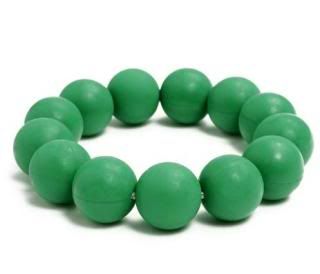 They have tons of styles and each style comes in a selection of colors - so you can choose the colors you like to wear. The plain
Cornelia Bracelet
is what first caught my eye - and I really like the Emerald Green color.
They sell them on various online retailers (including
Amazon
- if you're a momma-to-be looking to add to a registry.)