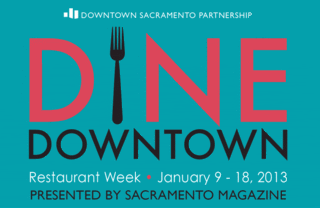 Here's another regular post that I haven't been doing lately. My "Around Town" Sunday posts. I'm going to try and start them up again. This week if you're a foodie in the Sacramento area and haven't hit up one of the
Dine Downtown Restaurants
you still have until Jan. 18 to do so. Want some recommendations? Maybe
Biba
,
Esquire
or
The Firehouse
- all of which have some yummy items on their menu. Such a great way to try some of the more pricey restaurants in town.
If you haven't seen the
Musical 9 to 5
check out the performance by Runaway Stage Productions at the 24th Street Theatre. We saw it last year as part of our
Broadway Series season tickets
- and its a great show. Speaking of the Broadway Series - this week you can also catch
Rock of Ages
if you're interested. We'll be going to the Tuesday night show... I'll let you know what I think (I'm on the fence about it right now.)
If you are reading this early enough on Sunday, Jan. 13 - and are looking for some new reading material - head over to the
Sacramento Public Library Warehouse sale
- it runs until 4pm today and you can get as many items as fit in a brown bag for $6! Not bad. They have other days that they'll be running sales so check out all the dates on the flyer.
A few friends and I did a Happy Hour Paints this past week - and had a blast. As of when I am writing this they still have openings for the
Monday, Jan 14 class at Kupros Bistro
. Its a great time if you have some friends that want to sip a cocktail and paint! (I sipped lemonade...)
Have a good week!