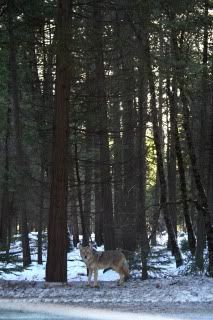 If you are a Yosemite fan like me - you might want to head over to the central libary on Jan. 29 from 6-7 p.m. and check out
Yosemite Valley in 3D
. Registration is required - but it seems like it could be really interesting.
On Jan. 31st the United Way is hosting
Flappers & Fellas A Rip Roaring 20's Soiree
. If you are looking for some different type of entertainment - this might be it. Sounds like a fun time.
Sacramento Museum Day
is Sat. Feb. 2 - so if you are interesting in checking out some of the museums in the area - this is the day. The Crocker will be free - and Fairytale Town and the Zoo will be 1/2 price.
Of course, Sunday Feb. 3 is the Super Bowl - so I figure most of you know what you'll be doing that day.
Have a good weekend!
P.S. The picture in case you're wondering is from our recent MLK Day trip to Yosemite. It was beautiful - and we got to see this pretty guy standing on the side of the road.