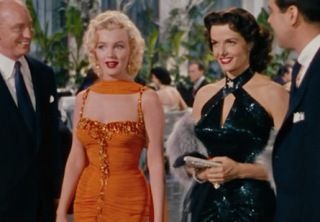 Can you believe its September already? This summer flew by. Hope you all got to do some fun things the past few months.
If you are looking for some stuff this week - you can catch one of my favorite movies
Gentlemen Prefer Blondes
at the Thursdays til 9 at the Crocker - Sept 6. You gotta love Jane Russell and Marilyn Monroe.
In Old Sacramento this weekend you can partake in
Gold Rush Days
- so if the kids have school off tomorrow and you're looking for something to do - head on down to see some wild west action.
Sept. 5 at
Harlows
you can catch
Missy Higgins
a great singer/songwriter from Australia. Or how about some
Tainted Love at Harlows
on Friday, Sept. 7?
Hope you enjoy your long weekend. If you haven't gone to the
Greek Festival yet this weekend
- you can still go today (assuming you are reading this on Sunday.)
Happy Labor Day!