I haven't planned my weekly menu out in a while. Thought I'd give it a try today. Here's what I'm thinking:
Monday: Stuffed Bell Peppers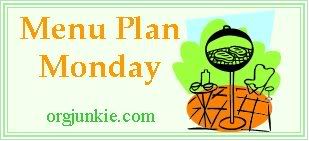 Tuesday:
Fancy Ramen Noodles
Wednesday: At a nephew's soccer game
Thursday:
Pan-Roasted Chicken with Lemon Garlic Green Beans
Friday:
Couscous Salad with Sausage, Greens and Beans
Saturday: We'll be at the
Greek Food Festival
... so probably a Gyro. :)
Sunday: Out of town
I'm obsessed with the Chicken with Lemon Garlic Green Beans recipe. I love it. Its so easy too. If you want to go to the Greek Festival click on the link above - there is a $2 off coupon.
Happy Monday everyone! More menu's at
orgjunkie
!