When I first saw
this recipe
on the
Real Simple
website - I thought, great an easy looking chicken recipe where you cook everything at once in one pot. Perfect for guests - because you get to talk and entertain - not just stay in your kitchen all night.
I was a little worried about the taste -- because the ingredients are so simple -- but I'll let this recipe be a lesson to me because it tastes amazing. I made some edits to the
original recipe
so here is what I did:
Pan-Roasted Chicken with Lemon Garlic Green Beans
serves: 4
Time: 1 hr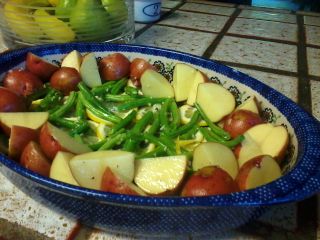 4 Tbs olive oil
2 lemons, thinly sliced
1/2 cup of lemon juice
4 cloves garlic, minced
1 tsp. kosher salt
1 tsp. black pepper
3/4 lbs. green beans
6 small red potatoes, quartered
4 chicken breasts (I've used both boneless and bone-in -- but either way the skin should be on)
Directions:
1.) Preheat oven to 450 degrees F. Spray baking dish with olive oil spray. Arrange lemon slices in a single layer on the bottom of the dish.
2.) In a large bowl combine the 4 Tbs. olive oil, lemon juice, garlic, salt and pepper. Add green beans and toss to coat. Remove with slotted spoon and lay on top of lemon slices. Add the potatoes to the same mixture and coat. Arrange the potatoes to the dish along the edges. Place the chicken in the olive oil mixture and coat. Add the chicken to the dish and cover with any remaining mixture.
3.) Roast for 50 minutes. Remove chicken from dish. Place the beans and potatoes back in the oven for 10 minutes. Serve.
Easy Peasy. Super yummy - but just a little warning. This is VERY lemony. If you love lemon you'll love this.