Here is the plan for this week! It may get a little off-track - since there is a big possibility that we'll be signing our closing papers on our new house! (yea!) But gotta just plan like normal...
Monday:
Mexican Stuffed Shells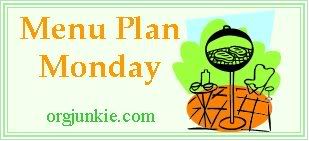 Tuesday: Chicken and Dumplings
Wednesday:
Fancy Ramen Noodles
(since I didn't get to them the last time I put them on my list.)
Thursday: Grilled Chicken
Friday:
Pizzetta with Chicken, Gouda and Pesto
Saturday: Dinner at my parents
Sunday: In Tahoe to celebrate our 1st Wedding Anniversary! (It was April 6)
O.K. There it is! (Keep your finger's crossed that we are so busy moving we barely have time for this....) More over at
orgjunkie.com
!