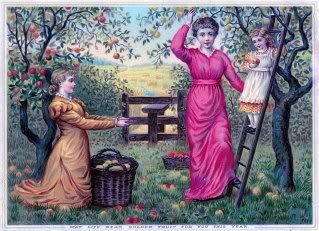 If you haven't been over to Bows & Arrows and tried the yummy food from FatFace Cafe - maybe the upcoming
Nerd Night part DEUX
is the time,Wednesday, April 25. The food from FatFace is delish and reason alone to check it out.
The Apple Hill Growers Association is hosting "
Apple Blossom Days
" on April 28 and 29.
Wofford Acres Vineyard
in Camino is hosting a barrel tasting as part of the events. There is a
Trail Run
as part of the celebrations as well - be sure to check out all the different events!
Wednesday evening, April 25, the
Francis House Center
is hosting their
Feast for the Streets
over at the Scottish Rite Masonic Center. Tickets are $50 a person but they go to a great cause - and you get to enjoy some great food and wine.
If you are a fan of pie, like me, that check out
Icing on the Cupcake's
"
Pie-day Fridays
." The flavor on April 27 is Lemon Meringue. Delish!
There's some stuff to start you on this week. Enjoy!
P.S. I love this apple harvest picture from
Graphics Fairy
!