Photo a day in April!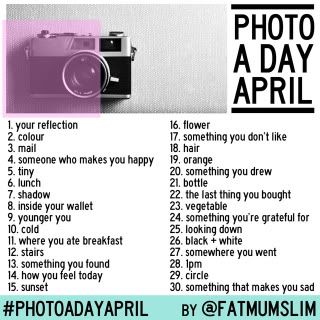 Over at Fat Mum Slim - they are doing a photo a day challenge. I've missed January, Febuary and March - but I am ready to join in
this month
! The April list looks good... I'll try and share these pictures with you once a week but I'll be tweeting them as well so if you don't already follow me on Twitter - do it now (
@emanolis
!)
I like the less obvious ones... like #14, #17 and #30.... and I'm excited to use this to help get those creative juices flowing!
If any readers are going to do it as well (or already are) let me know about it!