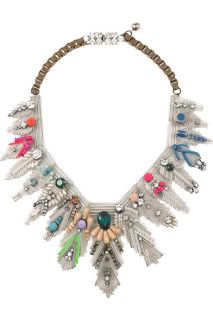 My latest fixation has the potential to do some damage to my pocket book. I reeeeaaaaallllllly want a piece of Shourouk jewelry. Really. The one that first caught my attention was the
Feather crystal and bead bib necklace
on
Net-A-Porter.com
(pictured on the right.)
I love the combo of the bright colors with the beads -- but the price tag of $1,155 is not in my price range. So, I'll just pin it on
Pinterest
- and stare at it.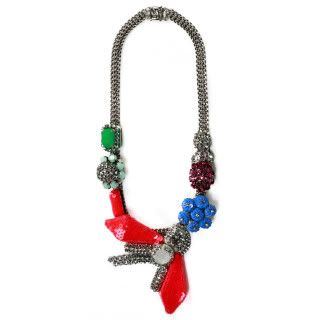 Then I got an email from Charm & Chain featuring their Shourouk stuff. They did add in a 15%-20% off coupon code ... which only brought my second favorite piece, this
Funky Art Deco Necklace
(on the left), down to $600.. closer to affordable.
For now I'll keep
pinning
and staring... but maybe some day.... After a big win at the Casino or something...