A Friend of mine asked me if I would do a feature on my blog where I answer friends / reader questions. I can't really imagine that too many people have anything they'd want me to answer - but I agreed to at least answer her questions.
Here is her first: How can you be Texas chic with a California Twist?
Texas has some great bits to offer - but I'd say that's the key. Bits. Adding bits of Texas to your style can be great. I'm loving this
10 ways to sparkle more in 2012 post
over at Glitter Guide and adding a bit of glitter is a great start for Texas chic with some California twist. Own some nice jewelry? Wear it!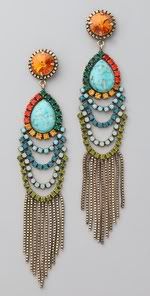 Here are some items that completely qualify to add some Texas to your style. The first - these
Dannijo Valerija Earrings
(First picture on the left.) Of course for $348.00 they aren't any where near my price range - and they are sold out - but you get the idea. Those colors say southwest and the size says Texas.
Of course, boots are an easy Texas style to add - and I just love these
red ones
(photo on the right.) Again, a bit out of my price range - but I think a good pair of leather boots might be worth an investment.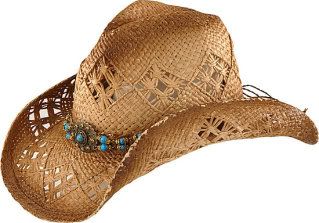 A third obvious accessory to add is the hat. I've been attending the Clovis rodeo with my in-laws for a few years and its such fun. I bought a hat I love at target and it looks a lot like the
one on the left
.
I especially like the turqouise adornment on it -- as turqouise is another obvious texas-style accessory.
Spell and The Gypsy Collective
(the very top photo is from their lookbook) is a great place to look for some items that would fit the Texas chic style perfectly - and most of the prices are great.
Hairstyle is another option. Everything is big in Texas, right? If I was going to go big - I'd go big with a messy bun / pony tail like this
picture on Pinterest
. But I think I like my cowboy hat too much to go too big on the hair!
Again, the real key is find what fits with what you have and that is easy enough. As I finish writing this post - I'm thinking more and more that some real cowboy boots might suit me fine for the rodeo this year....