Here's some items that would be great for the kiddos in your life. Big and small. First, this
Star Wars Alarm Clock
from Fred Flare. I know some little kids and some grown-ups that would appreciate this one. By the way, I found these on Fred Flare - but they are more affordable on
Amazon
- so check there too. That's actually a good gift shopping rule - anytime you find something kind of pricey - check Amazon.com.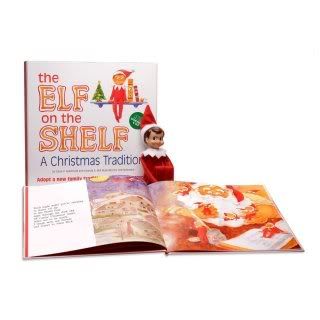 I'm sure a lot of you have heard of the
Elf on the Shelf
- but I just love this tradition. It's a book with a cute plush elf doll that is watching for good little girls and boys and supposedly comes to life every night and moves around the house. I just love it. The
official website
has some neat things too.
I can't help but share the
Baby Buff Rattle
. Something about a little one playing with this just makes me laugh. Maybe the picture has something to do with that -- but I had to enclude it here.
If you're looking to encourage your little girl to get active in sports (or dance / gymnastics) check out these
Go Go Sports Girl Dolls
. They seem to all be under $20 on Amazon... and its a great role model doll - especially if you have a little girl just starting to play some kid team sport or starting a dance or gymnastics class.
Another item I just love is this
wooden smart phone teether
. I love browsing thru etsy - as most of you know - so when I saw this I had to share it. Any iphone addict friends with kiddos will find this funny. And you can personalize it. It's only $17 - not bad for a personalized wood toy.Check out
3 Princesses Engraving
for other wooden toys for the kids!