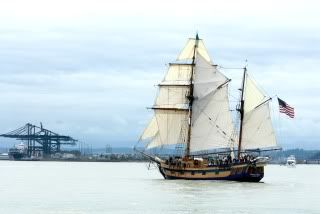 Travel is the theme this week. Except for maybe the last item. Although you'd have to drive (or take a train) to Lodi.
Last week on Oct. 13 - the
Hawaiian Chieftain arrived in Sacramento
. It will stay in town until Dec. 13 so if you are interested in touring this piece of maritime history you have a while to plan it. Seems like it would be a neat thing for kids to experience. Its open for walk-on tours as well as scheduled educational programs.
Another fun this that started this weekend - and will continue Oct. 22-23 and Oct 29-30 is the
Spookomotive Train Ride
in Old Sacramento. Its a 40-minute ride along the river halloween style. Price is $10 for adults and $5 for kids.
On our honeymoon road trip - I developed a bit of an obsession over
Charcuteries
. I'm not a huge meat eater - but pork is the one meat I have a hard time refusing. So maybe that's why this first event made it onto my post, even though its a bit outside of town. Lodi has a neat cheese store right downtown called
Cheese Central
that hosts different interesting events. On Oct. 21st they are holding a Salami making workshop UOP history professor / cookbook author,
Ken Albala
. According to the
Sacramento Magazine article
on the class, participants are asked to bring a sharp knife and nothing else. Its $45 - which seems a little pricy - but dinner is also included so I'm still pretty tempted to sign up.