We need to start eating healthier again, which means I need to get back to planning. Here's this week: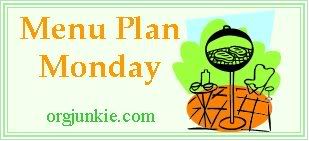 Monday: Lentil Salad
Tuesday: Antipasto Chicken (from Betty Crocker's 300 Calorie Cookbook)
Wednesday: Pizza Fundraiser Night
Thursday: Crabmeat and Spinach Enchiladas (from the 300 Calorie Cookbook)
Friday: Tarragon-Chicken Quinoa Salad (from Fresh Food Super Fast)
Saturday: Braised Kale with Pasta (from Vegetarian Times Sep 2011 issue)
Sunday: BBQ Chicken and Brussel Sprouts
Lets see if we can stick to it.
For more menus check out
orgjunkie.com
!