Well last week went well! The pizzetta was yummy - we added sliced green tomatoes (as you can see) and it was great!
It was a super simple recipe - I just spread pesto over two (one for each of us) whole wheat pieces of Naan bread and topped with sliced gouda, two slices of green tomato each, topped with leftover shredded chicken and some feta cheese.
Pizza's are so easy... You can really just throw a handful of ingredients that you like together and put on top crust. Or in this case Naan.
Anyways, here what I'm planning for this week.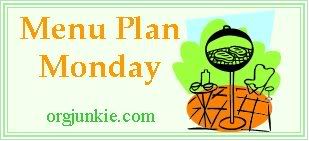 Monday: Chicken and Bok Choy Stir Fry
Tuesday: Sophia's Thai Kitchen in Davis (Groupon!)
Wednesday:
Blackened Tilapia with Cilantro Lime Slaw
Thursday: Grilled Prawns
Friday: Pork in the CrockPot
Saturday: I'll be out wine tasting all day - so I can't guarentee I'll cook dinner.
Sunday: Gnocchi with Pancetta, spinach and green tomatoes
More plans over at
orgjunkie
!