I took a week off of planning... and didn't do so well the week prior. But here I go taking a stab at it again.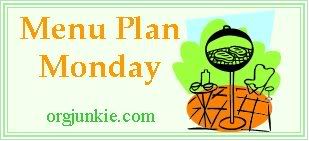 Monday: Chicken Edamame Salad with Wasabi Vinaigrette (from
Cooking Light Fresh Food Superfast
)
Tuesday: Dinner out
Wednesday: Pizzetta with Chicken, Gouda and Pesto
Thursday:
Lentil Tacos
Friday: Grilled Fish with Spiced Garbanzo Bean side
Saturday: Pasta with Procuitto and Veggies
Sunday: Chicken Chilaquiles Casserole
Quick and easy... lets see if I can stick to it. More
Menu's on Orgjunkie
!