Happy 4th of July! Hope everyone is getting to celebrate with family and friends today! We'll be going to my sister-in-laws for some great food and fun. Here is my plan for this week... short and sweet because we've got lots of stuff going on!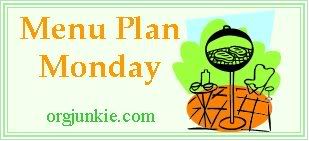 Monday: 4th of July BBQ
Tuesday: Ginger Tilapia Stir Fry
Wednesday: Out to dinner for hubby's birthday!!
Thursday: Chicken Edamame Salad with Wasabi Vinaigrette
Friday: Rehursal Dinner for Jonny's cousin's wedding
Saturday: Wedding
Sunday:
Flatbread with Sweet Onions, Collard Greens and Brie
(I'll be revising this a bit... probably use premade whole wheat pizza crust and sundried tomatoes instead of canned.)
More menus over at
orgjunkie.com
!