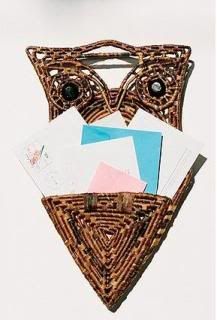 Do you still write people letters? I don't really, but I think I'd like to get better at sending postcards and occasion cards (Birthdays, Anniversaries, Get Well, etc.) I started thinking about all these when I saw this
Owl Letter Holder
on
Urban Outfitters
.
(Did you know it would come back to Owls?)
Anyway, I want it. But I'd like it to look as full as the owl in the photo... which I don't think would happen. We don't recieve or send enough letter-like mail to make it look like that.
We'd have to save a months worth of mail.
But this still might end up being a purchase.... I just can't help myself!