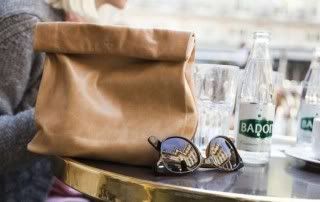 When I say brown bag, I'm not talking about your lunch. I'm talking about this yummy
Picnic bag
from
Marie Turnor
. As soon as I saw this post on
simple blueprint
all I could think about was owning this bag. I can just imagine myself sitting with it on the table on a french bistro, or maybe a
bistro in Yountville
is more my speed... but I can see it.
It also reminded me of this
Miss Dior Cherie video
I posted a while back - just lovely.
This may sound like I'm trying to convince myself that this purchase is ok, but its actually
only $175
. I imagined it (right after the french bistro dream) being a lot more then that. $175 makes it seem with in reach. Which may be a bad thing.
My husband told me I should donate that money to a charity instead... which quickly brought me back to reality and that we are supposed to be saving money right now so we can buy a house. Ok. I'll hold off on pushing purchase. For now...