Well, this week isn't going to be easy for menu planning. Wednesday is my birthday and this week is supposed to be a detox week for my KAIA FIT class. So I'm supposed to be eating healthy the week I turn 30. This could be difficult. But here is my attempt.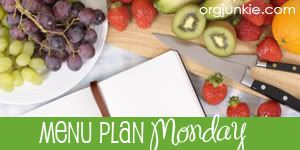 Monday: Happy Hour at
Mayahuel
Tuesday: Lettuce Wraps
Wednesday: Bday celebration with the Hubby!
Thursday:
Broiled Salmon with Spinach & Feta Saute
Friday:
Grilled Spring Equinox Chicken Salad
Saturday:
Chili Bean-Stuffed Peppers
(Quinoa instead of Rice)
Sunday: Wedding!
Well this is going to be a fun week. And I'll try my best to stick to the detox plan (although I'll have a drink or two tonight and Wednesday in celebration.) Here are
more menus to browse
over at Orgjunkie!