Here we go another week. We missed a few items last week that I've put on this week. I'm hoping to post the Black Bean Asian Tostadas recipe and a photo or two in the next day or so. I just have to upload some photos!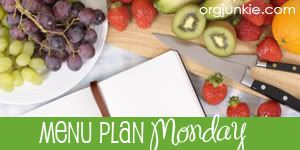 Monday:
Asian Style Honey Vegetable Stir Fry
(over Quinoa)
Tuesday:
Pea, Edamame and Mint Soup with Feta
Wednesday:
Apple Gorgonzola Walnut Pizza
Thursday: Crock Pot Chicken
Friday: Sage Pork Tenderloin with Baked Sweet Potatoes
Saturday:
Wok-Stirred Clams and Black Beans
Sunday: Dinner Out
There it is. I'm excited about some of these recipes - especially the soup and the clams!