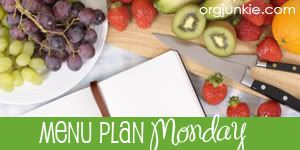 Well its late Monday... but I'll still post my plan. Dinner got a way from me tonight - hot nights make it hard to cook - especially after a relaxing day of wine tasting! So I am starting with Tuesday.
Tuesday: Grilled Fish and Zucchini Fries
Wednesday:
Loaded Veggie Quesadillas
Thursday: Sage Pork Tenderloin with Baked Sweet Potatoes
Friday: Black Bean Asian Tostadas
Saturday:
Asian-Style Honey Vegetable Stir-Fry
over Quinoa
Sunday: Jackie Greene Concert @ Fairytale Town (rescheduled from the week of my bday)
I have some good foodie photos to post and write about... I just haven't yet. I'll try soon. More plans over at
orgjunkie
!