Here my plan this week...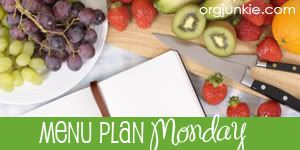 Monday:
Slow Cooker Filipino chicken adobo
Tuesday:
Greek Gazpacho
Wednesday:
Salad with Chicken Apricots & Mint
Thursday:
Greek Style Zucchini Fritters w/ Tzatziki
Friday:
Tabasco and Asparagus Quinoa
Saturday: BBQ with the parents (mine and his)
Sunday: Father's Day
As a cooking side note - I got a
cuisinart 14 cup food processor
for my birthday and I'm aching to use it -- so I specifically found some recipes that I'd need it for. Hope it all turns out yummy!
More menus over at
orgjunkie
as always!