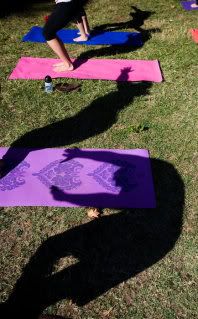 I'm going to try and do some sort of regular feature to call out things to do around Sacramento - called "Around Town." Here is my first attempt!
This started because I wanted to share the Yoga in the Park info. I've always seen the Sat morning group over at McKinley Park... but never quite knew enough about it. Finally I looked into it and found the
Yoga in the Park
facebook page! I'm super excited to try it.
Tonight I'm heading out to see
Mary Poppins
as the last show of the
Broadway Sacramento 2010-2011
season.... and I am super excited for next season, which includes Wicked! I love having these season tickets.
Saturday, June 11 is one of nights (first for the summer) for the
family overnight safari's at the zoo
. I think this sounds like such a fun family idea. It's a bit pricey - Sac Zoo Members: Adults $50, Children (ages 4-17) $46 and Non-members: Adults $60, Children $56... but it does include dinner and breakfast.
Look for more around town items next Sunday!
photocredit: SacBee