Hi my honeybees - here are some items to think about in Sacramento next week and next weekend. Planning something fun makes time fly!
Metro Edge
is planning its 2nd annual
Dodgeball Tourney
. Deadline to register is June 15 (the event is on the 18th) and they have volleyball too. Teams are 10-12 people for dodgeball and 8 for volleyball... so get your team together and sign up. If I wasn't busy that day I'd make a team right now! You can see pictures from last year on the
Metro Edge Facebook page
.
One of my favorite restraurants, Gonul's, has moved and changed names. It's now
Vanilla Bean Bistro
and has moved near 33rd and J St in the same spot that used to be
Formoli's
(and Formoli's moved to where Gonul's was at 39th and J St.) I am super excited to try out Gonul Blum's new bistro -- but I'm also excited to be able to walk to Formoli's. This seems like a win win. I'll be sure to report back on the Vanilla Bean Bistro!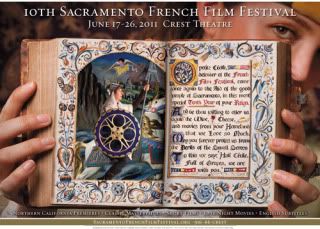 June 17 marks the start of the
10th Annual Sacramento French Film Festival
. The trailer for opening night "
Names of Love
" looks pretty good. You can see the
whole schedule
on the Crest Theaters website. If you are a Crocker Art Museum member (like me) you get a discount on tickets to the individual films.
I love the poster for the festival too - such a pretty vintage book!