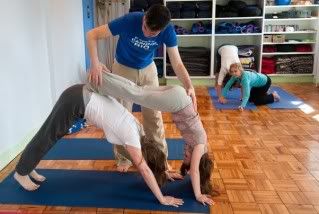 Recently I saw an article in my daily
Vital Juice email
- that linked to this interesting Washington Post article "
Raising a generation of children on yoga
." The studio they first talk about is called
Budding Yogis
which I think is a super cute name even though I'm still trying to figure out what I think of the whole idea. Maybe its because I look at yoga as something I do to relieve stress that I didn't have as kid. Exercise is important - but for kids I think of it as being outdoor cardio type of exercise - soccer, swimming, t-ball, etc.
The article made me wonder if Sacramento had any kid yoga classes. I know I have some mommy readers so I thought it would be good information to share.
Sacramento Yoga Center
has a Mom and Baby class (geared towards postpartum) and the only one I could find that mentions kids is
Asha Yoga
which I actually wanted to check out since they opened a new studio in East Sac right near my house.
Anyways, I'm interested if anyone has kids or neices/nephews that have done kid yoga? After thinking about it a little more - I might have more fun in yoga if I had the flexability I had when I was 8!