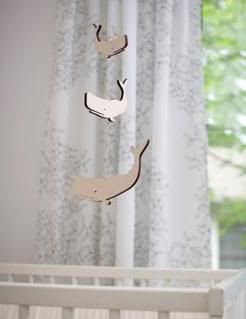 Some times I get to websites and have no idea how I got there. I've talked about this before. The clicking syndrome. You just click and click and click... and all of a sudden you find something awesome. That's how I feel about
The Modern Baby Company
. I'm not even looking for baby gifts but I find myself on this site that I must share. Especially since I have a handful of mommy readers.
The item I fell in love with on this site was this
adorable wooden whale mobile
. The also have a butterfly and lion mobile as well - same crisp, modern, wood design.
The also have prints you can frame and hang for some modern decoration. My favorite is the
peacock print
. They also have some of the print designs as onsies.
Anyways. Check it out! I hope they get more stuff!