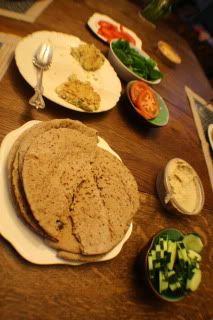 I love these little quinoa patties! I've made them twice this month - and they work great for my low-carb high fiber diet. Plus they are vegetarian.
You can use them in pita pockets with some fresh veggies or just eat them by themselves with the veggies and some hummus. Either way they are DELICIOUS!
My recipe is a slight variation of one on
Epicurious
:
Quinoa Patties
makes: 11-14 patties
Ingredients:
2 1/2 cups cooked quinoa, at room temperature
4 large eggs, beaten (I use egg beaters)
1/2 teaspoon fine-grain sea salt
1/3 cup chopped fresh chives
1 yellow onion, finely chopped
1/3 cup freshly grated Parmesan
3 cloves garlic, finely chopped
1 cup whole grain bread crumbs
Water, if needed
1 tablespoon extra-virgin olive oil
Directions:
First you want to cook the quinoa according to the package. I found 1 cup uncooked equals about 2 1/2 cups cooked so that is what I went with.
Combine the quinoa, eggs, and salt in a bowl. Stir in the chives, onion, cheese, and garlic. Add the bread crumbs, stir, and let sit for a few minutes so the crumbs can absorb some of the moisture.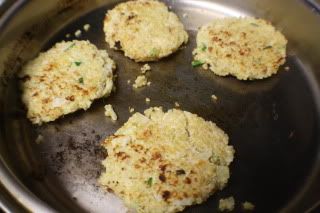 You should be able to form this mixture into 1-inch thick patties. You want these moist - but sticking together so add more breadcrumbs or water if needed.
Heat the oil in a large, heavy skillet over medium-low heat, add patties leaving some room between each, cover, and cook for 7 to 10 minutes, until the bottoms are deeply browned.
Carefully flip the patties with a spatula and cook the second sides for 7 minutes, or until golden. Remove from the skillet and cool on a wire rack while you cook the remaining patties.