It seems like I'm always stumbling across a new online magazine I've never heard of. This time its
Pure Green Living Magazine
and they've just released their 5th issue. Thanks to the blog
poppytalk
for mentioning it!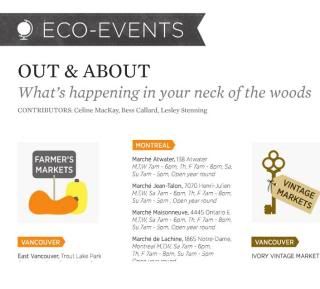 I really like the eco-events section that lists markets and festivals in Canada (too bad I don't live closer - I'd be at the
Ivory Vintage Market
all the time!) I'd love to see something like this for Northern California. Maybe I'll start getting better at blogging about upcoming Nor Cal events.
In the "Dig in the Dirt" section - they showcase some stylish gardener gear that led me to an awesome site called
The Balcony Gardener
which unfortunately is based in England and probably can't ship here... although that might be a good thing because it prevents me from spending the money!
The Oraganic Kitchen section this issue featured yummy looking veggie sandwiches that looked super healthy but tasty at the same time.
Overall this magazine looks like it has some great resources, recipes and ideas -- even if you don't live in Canada. Totally worth checking out.
Now I just need the time to be able to read all these things and do all the great ideas!