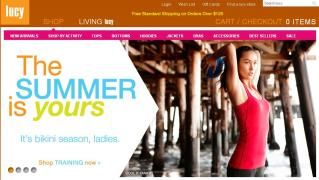 I'm not talking about the T.V. show.. I'm talking about
lucy activewear
. With my bootcamp this month - I had to purchase some new clothing for my workouts. This store has some amazingly comfortable stuff that fits well and looks nice.
Did I say super comfortable?? My favorite item is their
crew socks
with the mesh / airy top.
Its important to feel comfortable in your clothes especially when you might be uncomfortable in your activities! Like running. I'm not a big fan but its
so nice
to not be tugging and pulling at clothes that don't fit right.
This is end of week 4 of bootcamp and its going great! I'm tracking my meals at
SparkPeople
, which, if I haven't shared before, is a great tool for counting your fiber, fat, protien, etc.
Anyways - if you are in Sacramento you can check out the lucy store in Pavilions on Fair Oaks Blvd. near Piatti's.