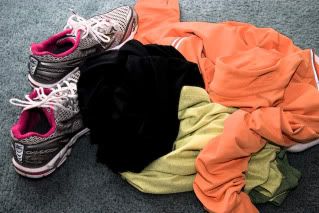 Well thanks to a great
TownHog
deal - I've signed up and started Bootcamp with the
Kaia Fit
team here in Sacramento. Monday was day one - and it was great.
A great workout with all girls and although I am a bit sore - I think its going to be great. Trying a no carb, no white sugars and no dairy week detox too. What I really need though is a trip over to
Lucy
to get some new workout gear. The pants and top I currently have are from Lucy and I love how well they fit.
I'm also doing a training for a 5k with a group of friends so that we can run in the
Sacramento Firecracker 5k
. So lots of exercise for me over the next few months.
Anyways - the point of all this is for #10 on my
30before30
list: Lose 10 pounds.
So here I go.
I'll let you know if it works!
photo credit: flickr