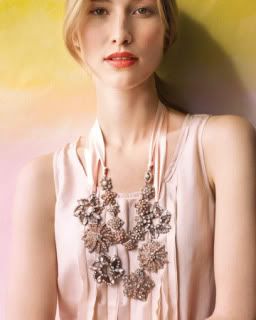 I'm loving this
brooch ribbon necklace
idea over at Martha. I have so much vintage / costume jewelry that would be great re-purposed like this.
The tutorial seems easy enough as well - and hopefully proves easier then my attempt at the
brooch bouquet
. Which I still want to attempt even though I've done the wedding already. Again, maybe something I could sell on etsy... and knock another item off my 30before30 list?
Anyways I'm going to review my jewelry collection, get some pretty ribbon and see what I can create. If I succeed - I'll post about it.
Stay tuned...