I try really hard to be a positive person - and I think for the most part I do a good job at it. But sometimes we all need a little assistance. Luckily, the lovely
kind over matter
blog has helped us out. Print out a few of her
Free Positive Thoughts Posters
and put them up. Maybe at work, maybe at home, maybe on the corkboard in Starbucks. They might help your friends, yourself or a stranger. You really do become what you think.
She also has a
Free Complements Poster
with a fill-in your own option! What a great blog!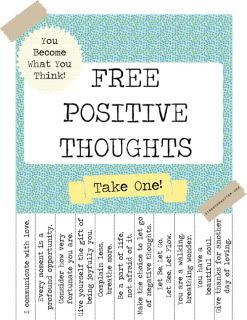 I'm gonna go with "You are a walking, breathing wonder" today. Which one are you taking?