Another good week of staying on track. We ate Wednesday night at Cafe Rolle - which was so yummy. I
reviewed it over on Yelp
if you are interested.
Here is the plan for this week: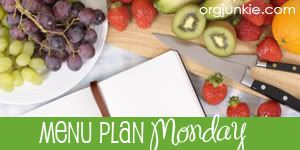 Monday: Dinner out for a friends Birthday
Tuesday: Jambalaya, Hurricanes and Beignets Happy Fat Tuesday!
Wednesday: Visiting Friends
Thursday: Salmon and Brussel Sprouts
Friday: Asian Lettuce Wraps
Saturday: Twice Baked Potatoes
Sunday: Dinner with Family!
There is my plan. Sorry no links to recipes... its not that kinda week. :) More plans at
Orgjunkie
!