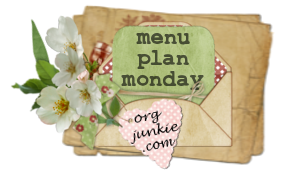 Here what this week looks like:
Monday: Night Out! Alternative Work Schedule Day! (We knocked off
#6 off my 30x30
list and took a drive with no predetermined destination)
Tuesday:
Apple, Gorgonzola and Walnut Pizza
Wednesday: Veggie Burgers and Sweet Potato Fries
Thursday: Out at an awards celebration for work
Friday: Split Pea Soup
Saturday:
Vegetable Tamale Pie
with Artichokes
Sunday: family dinner
There it is. Happy Monday (a day late). Check out other plans at
orgjunkie
!