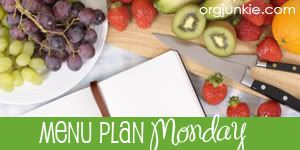 I did pretty good last week... kept on track. Maybe I can do the same this week...
Monday:
Fusilli Alla Crazy Bastard
(adapted)
Tuesday: Tacos!
Wednesday: Dinner out with Friends
Thursday:
Orange and Balsamic Chicken
Friday: Pecan Crusted Fish
Saturday: Dinner with Family
Sunday: Black Bean Chipotle Soup
Hopefully Wednesday night we are going to make it out to dinner at
Cafe Rolle
- a local french restaurant that has been featured on
Diners, Drive-ins and Dives
.
Go over to
OrgJunkie
to see more menu plans...