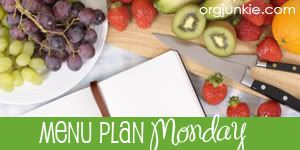 Sorry I missed last week... and for the delay in posts. I was super sick last weekend and for most of the week. Here is my plans for dinners this week.
Monday: Out of town
Tuesday:
Black Bean-Salmon Stir Fry
Wednesday: Dinner out with Friends
Thursday:
East Indian Stew
Friday: Dinner out with Friends
Saturday: Grandma's Birthday!
Sunday:
Poblanos Stuffed with Cheddar and Chicken
That's an easy week... only 3 things I actually have to cook. Of course you can always find more plans over at
orgjunkie.com
.