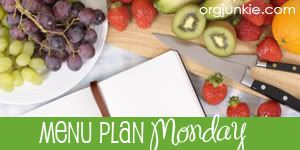 So I've decided to try my menu planning again for this week. We'll see how it goes. Here my plan:
Monday: Out :)
Tuesday:
Tomato Cabbage Soup
Wednesday:
Pasta Alfredo with Broccoli and Mushrooms
Thursday: Red Beans, Rice and Sausage
Friday: Chicken, Walnuts and Gorgonzola with PastaSaturday:
Honey Grilled Salmon
Sunday:
Green Chili Mac n Cheese
We'll see if it pans out....
Remember if you want good recipes go to
Orgjunkie
!