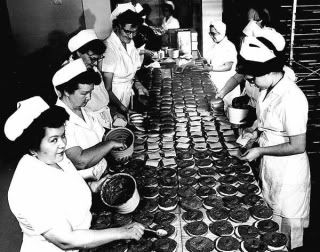 I am always looking for new places to get recipes to try - and when I came across
Cooper's Kitchen
I knew I had a new resource!
I love checking out his recipe of the week and all the stuff he shares on
twitter
too! I'm looking forward to trying the
Chipotle BBQ Sauce
! (Ok, I mean having Jonny try it - since he is the bbq'er).
Really I need to start making more recipes from all the cookbooks I own - but its so fun to find recipes online. This week though I am trying to keep out of the cookbooks. I'll share any major successes I have.
P.S. Don't you just love the picture of the
ladies making the cheeseburgers
???