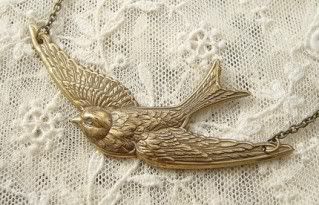 I've been a busy girl. So not much time to post... and even more importantly - not much time to find anything worth posting about. But I saw these
lovely pendants
that I thought about sharing - and figured it was a good time to drop in and say hello. Even apologize a bit for my absence.
Here are the pretty pendants I found. I don't know how many times I've said it - but here it goes again. "I love Etsy."
Birds
,
Bees
and
Owls
- I don't think anyone is surprised by my love for those... But this
Octopus
? I actually think its my favorite. Anyone else? What about the
Hot Air Balloon
? Very Wizard of Oz...
Anyway - please enjoy. And happy Wednesday.