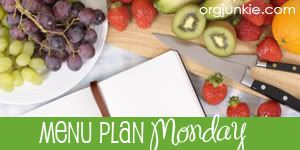 Well last week was a complete bust as far as following my menu. Let's try again.
This week I'll be cooking for one until Wednesday. The fiance is out of town visiting friends in Boston so I'll be looking for simple/take out meals for the beginning of the week (unless I end up at my parents house for dinner...)
Here what my plan looks like:
Monday: Summer Strawberry Salad
Tuesday: Take Out
Wednesday:
Black Bean Tacos
(I love this recipe)
Thursday:
Spicy, Garlicky Meatloaf
Friday:
Skillet Gnocchi with White Beans and Spinach
Saturday:
Goat Cheese, Pesto, Veggie Pizza
Sunday: Family in town
Ok there we are. Check out
Orgjunkie.com
for more!